The cabinet top
The cabinet top includes the backlit marquee and the speakers. To make sure the angled cuts fit tight together, the top will be glued together and can be removed as one part.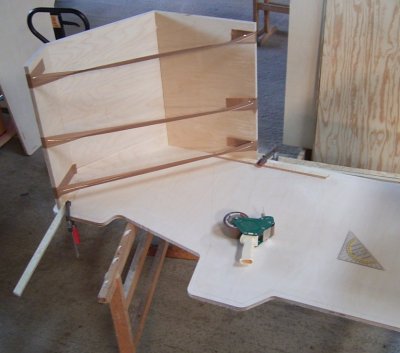 After cutting the three outer parts, i put them together using sticky tape. Screw clamps are difficult to use with angled parts like this. The connections made with a biscuit joiner help keeping the parts in place while the glue is drying. To make sure the shape is correct, i put the top on on of the cabinet sides.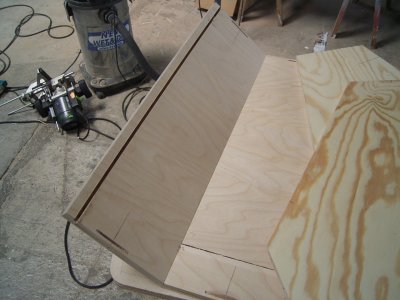 After the woodglue has dried and the adhesive tape is removed, i cut the two sidepanels from pine plywood. On this sidepanels the top will be screwed to the cabinet sides. The sidepanels are attached using the biscuit joiner and wood glue.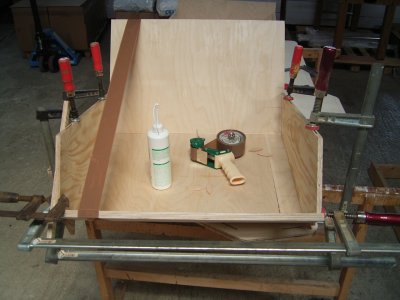 The last step is glueing the inner parts to the sidepanels. The big piece of multiplex will carry the speakers. The small piece with the slot is the back and forms the support for the glass plate that covers the monitor.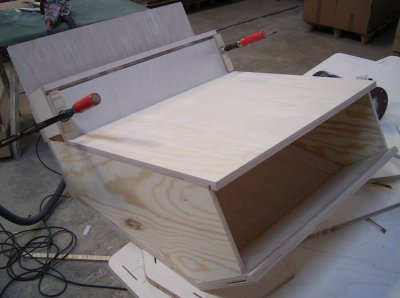 ---
Fatal error
: Uncaught Error: Call to undefined function mysql_connect() in /www/htdocs/w0074465/comm/comments.php:30 Stack trace: #0 /www/htdocs/w0074465/top.htm(53): include() #1 {main} thrown in
/www/htdocs/w0074465/comm/comments.php
on line
30