The front door
For easier access the cabinet has a hinged front door. The door carries the coindoor with an mechanical 50 cent coin-acceptor. Behind the door is enough room to store the control panels currently not in use. It also provides access to the disk drive.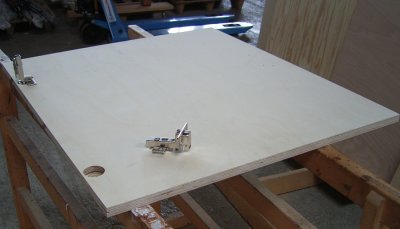 Like the rest of the arcade cabinet, the door is cut from 3/4" birch plywood. I drill two 35 mm holes for the concealed hinges using a forstner bit. The concealed hinges have to be suitable for inlying doors, otherwise the door will not open. For the lock i drill one hole with a diameter of 20 mm. The locking bolt engages with a slot in the strip of wood which is attached to the cabinet side.
My plan was to use an old double coindoor from a NSM electronic dart machine. This electronic darts was made by Valley in 1981, which is about the time q*bert was made by Gottlieb. The coindoor looks exactly like the one used on the q*bert machines. I later decided to leave the coindoor in its place and use a new one i had lying around. Maybe i can sell the NSM darts one day.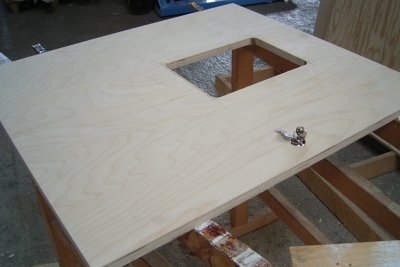 I made the cutout for the coindoor exceptionally with a jigsaw. Normally i try to avoid my jigsaw, as its old and cuts in every direction except straight ahead. In this case i was too lazy to make a template for the router. The result looks not very professional, but the coindoor covers about half an inch of the cutout.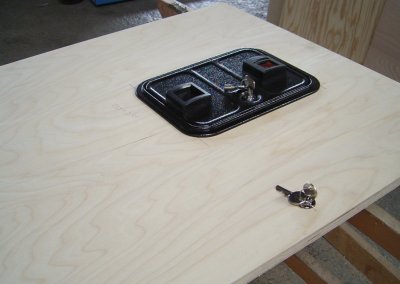 The coindoor is a normal standard coindoor with a mechanical 3 1/2" coin acceptor made by money controls. The coin acceptor is adjusted to 0,50 cent coins. In order to make playing easier i will install an additional microswitch to the reject button (as seen on 1uparcade.com), or i add one or two buttons for adding credits.
The most important thing: The control panel
---
Fatal error
: Uncaught Error: Call to undefined function mysql_connect() in /www/htdocs/w0074465/comm/comments.php:30 Stack trace: #0 /www/htdocs/w0074465/door.htm(56): include() #1 {main} thrown in
/www/htdocs/w0074465/comm/comments.php
on line
30