The base coat
Actually i planned to laminate the whole cab with HPL (High Pressure Laminate). That would have saved me a lot of time, it's more durable than paint and the finish is perfect. The black laminate is easy to find, but Q*bert-yellow was not available, so i had to paint all parts with oil-based paint, which can be mixed to match all colors.
Before painting, all surfaces have to be prepared by sanding. I use an eccentric sander and sandpaper with a graining of 80 and 150. I work all edges and corners with a hand sanding block.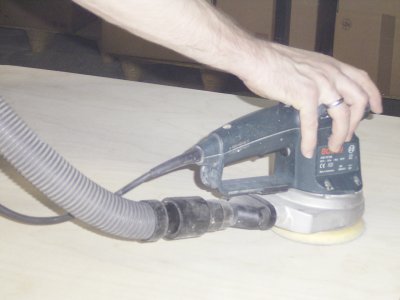 I pre-treat the smoothed surfaces with white oil-based primer.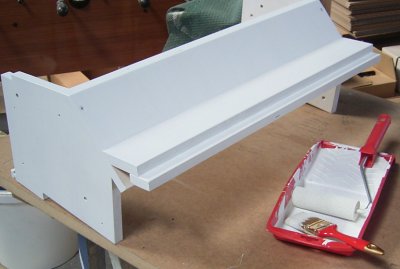 After the primer has dried over night, i fill all holes and scratches with putty. I bought 2 component putty specially for my cab, but the full can became hard after i used too much hardener :-/
I sand the primed and smoothed surface a second time and apply a second layer of primer. Now the surface looks like a white sheet of paper.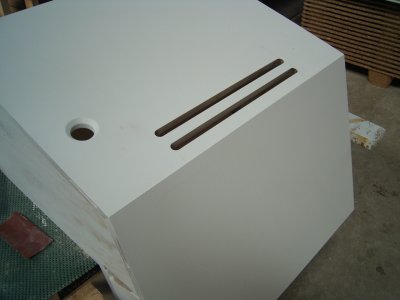 After i finished priming the top, i realize that i forgot the ventilation slots. After i made the slots using the router, the top needs another layer of primer.
More about the painting.
---
Fatal error
: Uncaught Error: Call to undefined function mysql_connect() in /www/htdocs/w0074465/comm/comments.php:30 Stack trace: #0 /www/htdocs/w0074465/painting.htm(53): include() #1 {main} thrown in
/www/htdocs/w0074465/comm/comments.php
on line
30