Arcadeart
To recreate the original arcade look, the cabinet needs the correct Q*bert graphics. I ordered the sideart, marquee and control panel overlay from classicarcadegrafix.com, which was the only shop i was able to find that had everything i needed.
It took them about 2 weeks to ship the parts from the US to germany. Invoice and installation instructions where missing, but everything else was ok.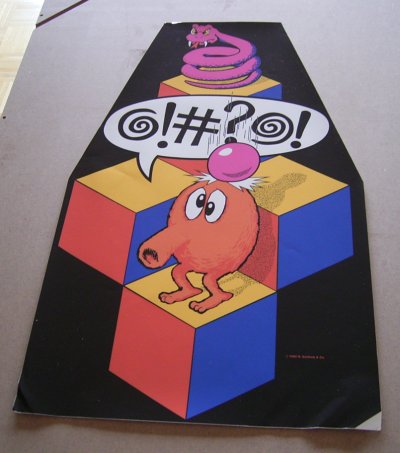 As you can see on the picture, the edge of the sideart are crumpled and ripped. I guess thats because of the long journey and the mediocre packaging. Fortunately i have to cut the stickers into shape, so the bad parts fall off.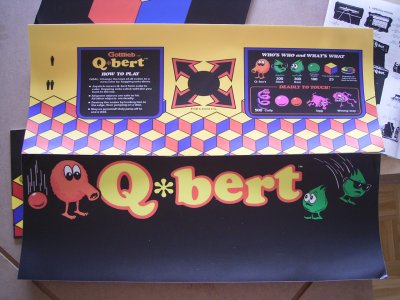 The parts for the control panel are coated with a rough protective layer which makes them more durable. I ordered one control panel overlay for the one player Q*bert panel and three of the black overlays for the front part of all three panels.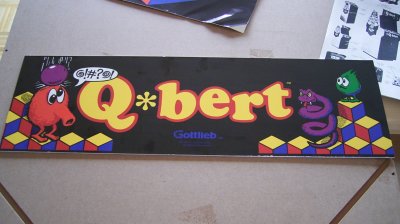 The marquee is made from the same material as the sideart. The vinyl is affixed to a thin translucent sheet of plastic. The material is not as translucent as i thought, so i had to mount the marquee light nearer to the front.
next: installation of the vinyl sideart.
---
Fatal error
: Uncaught Error: Call to undefined function mysql_connect() in /www/htdocs/w0074465/comm/comments.php:30 Stack trace: #0 /www/htdocs/w0074465/art.htm(49): include() #1 {main} thrown in
/www/htdocs/w0074465/comm/comments.php
on line
30