Control Panel Overlay
The q*bert control panel needs a retro-style overlay with game instructions and scoring table. The control panel overlay consists of two piece of self-adhesive vinyl. I ordered three pieces of the black front part featuring q*bert, sam and slick, one for each control panel. The yellow top part fits only for the one player panel, a adaption for two player would be difficult.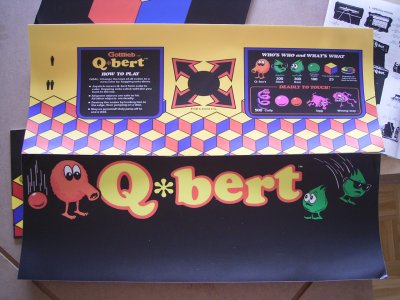 The sticking of the big pieces of vinyl is much easier than i first thought. The material is stiff and doesn't crumple easily. The rounding on the front edge requires some pressure to make the overlay stick.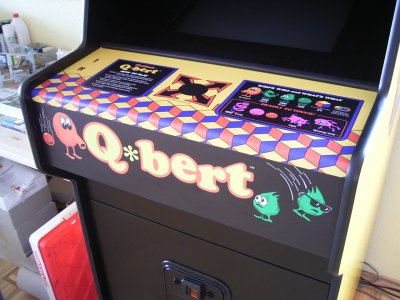 The control panel with the fitted vinyl decor.
---
Fatal error
: Uncaught Error: Call to undefined function mysql_connect() in /www/htdocs/w0074465/comm/comments.php:30 Stack trace: #0 /www/htdocs/w0074465/cpo.htm(45): include() #1 {main} thrown in
/www/htdocs/w0074465/comm/comments.php
on line
30