The cabinet
The cab is a reproduction of a Q*bert machine build in 1982. I took the measures from jakobud.com, a great site which seems to be currently offline. After i made a cardboard model, i saw that the original size was too small for me. In my memory the cabinets were pretty big back then, but maybe that's because i was a lot smaller. For better ergonomics i multiplicated all numbers with 1.125, so the cabinet is 72" instead of 64" tall. The surface of the control panel is 42.75" instead of 38" form the floor.
I don't try to make the Q*bert machine an exact copy of the original, so i planned to do some variations:
- Interchangeable control panels. In addition to the Q*bert panel with only one 4-way joystick, there will be one with to joysticks for two player action and one with a keyboard and trackball for configuration and pc-games. like Chromium and Clanbomber.
- The front side, which contains the coin rejector, will be hinged for easy maintenance and to have a place to store the two control panels not currently used.
The material i use is 18mm multiplex birch. This material is easy to work with and unlike MDF it is very robust while lightweight. Initially i planned to use HPL (High Pressure Laminate) for the surface, but my supplier couldn't deliver the right q*bert color. So i just use a coating of synthetic resin paint.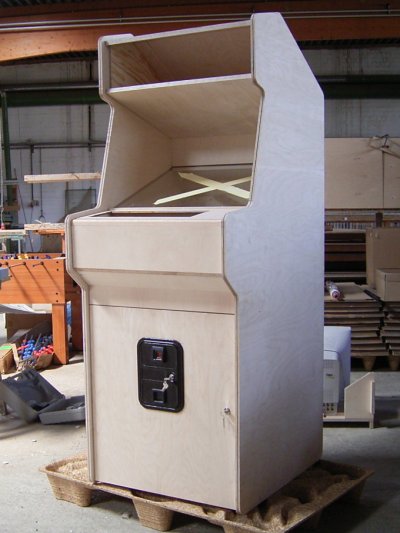 For easier transportation, all parts can be disassembled.
---
Fatal error
: Uncaught Error: Call to undefined function mysql_connect() in /www/htdocs/w0074465/comm/comments.php:30 Stack trace: #0 /www/htdocs/w0074465/cabinet.htm(52): include() #1 {main} thrown in
/www/htdocs/w0074465/comm/comments.php
on line
30