The backboard
The original q*bert cabinet has a hinged backboard, so a large part of the back can be opened for maintenance. My q*bert cab has a door on the front, so there is no need to open the back. The backboard which is made from 1/4" beech plywood, is screwed to the bakc of the cabinet.
The backboard is attached to a support ledge i fixed on both sides and at the top and base of the cabinet. The crossbase provides additional stability.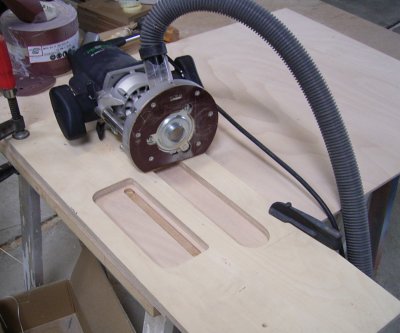 With the help of an old routing template i had left from another project, i cut the slot for ventilation into the backboard. Next to the slots sits the power supply. I hope the inside of the cabinet will not overheat, but that will show after everything is finished.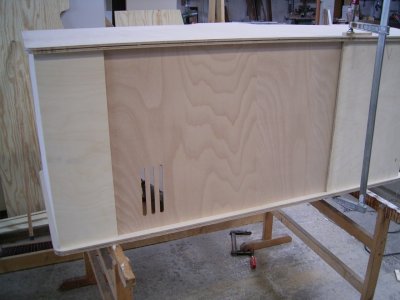 This is the finished backboard screwed to the arcade cabinet.
Next, i fit the glass plate.
---
Fatal error
: Uncaught Error: Call to undefined function mysql_connect() in /www/htdocs/w0074465/comm/comments.php:30 Stack trace: #0 /www/htdocs/w0074465/backboard.htm(51): include() #1 {main} thrown in
/www/htdocs/w0074465/comm/comments.php
on line
30