The control panel
I decided to build a few different control panels for different games instead of one for everything. Every control panel has not more buttons than necessary. The first one is a panel that looks like the original q*bert panel. Since there are few games which only use one four-way joystick which is mounted diagonally (to be true, i can't even think of one beside q*bert), so i use a 8-way joystick here. The keyboard which is needed for administration and installation, gets its own control panel including a 3" trackball instead of a mouse. This can also be used for pcgames that require a keyboard. Additionally i make a 2 player control panel with 2 8-way joysticks for games like the metal slug series and one with a spinner for games like arkanoid.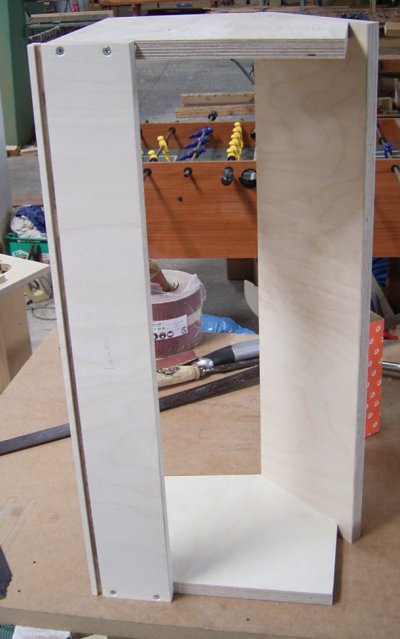 The exchangeable control panels will be pushed into a support made from plywood, which is screwed between the cabinet sides. The back of the support has a 1/4" wide slot on both sides, which carries the monitor cover on one side and the upper edge of the control panel on the other side. The picture shows the support before installation.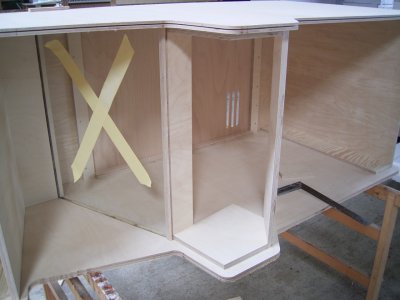 For the exchangeable part, i cut three sheets of plywood which form the front of the control panels. The upper edge of the panel is made from a massive piece of beech wood, which has a rounding on the front and a notch on the back.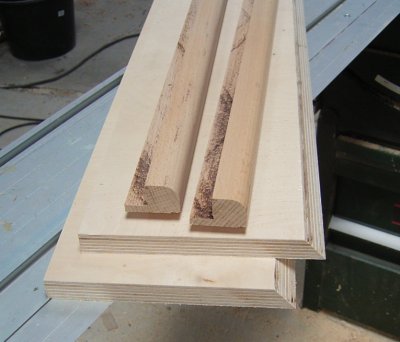 More about the control panel.
---
Fatal error
: Uncaught Error: Call to undefined function mysql_connect() in /www/htdocs/w0074465/comm/comments.php:30 Stack trace: #0 /www/htdocs/w0074465/controlpanel.htm(48): include() #1 {main} thrown in
/www/htdocs/w0074465/comm/comments.php
on line
30