Exchangeable control panel
After glueing and screwing the strip of beech wood to the frontplate, i cut two pieces from 1/2" pine plywood as sides of the control panel. This sides connect the front with the top of the control panel. The sides also set the angle between the front and top.
The sides are glued to the front plate. The three wedge shaped pieces of wood keep the panel in place.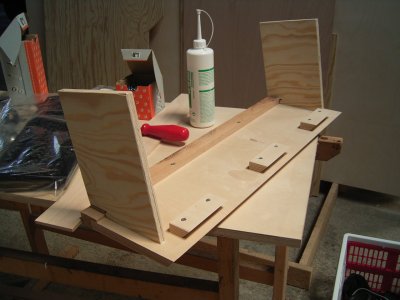 The top of the control panel which will be coated with the control panel overlay, is made from 1/4" beech plywood. The back of the panel is pushed into the slot of the control panel support. I wait with the drilling of the holes for buttons and joysticks until i recieve the overlay which i ordered at classicarcadegrafix.com. The picutre shows the finished arcade cabinet with a mounted control panel.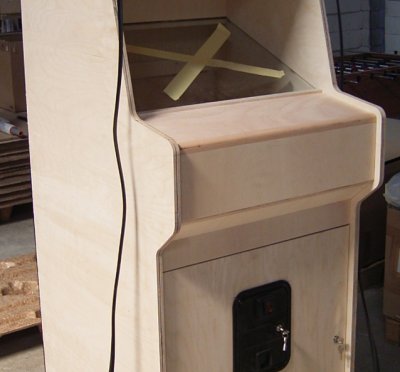 Now the construction of the cabinet is done! Next comes the painting.
---
Fatal error
: Uncaught Error: Call to undefined function mysql_connect() in /www/htdocs/w0074465/comm/comments.php:30 Stack trace: #0 /www/htdocs/w0074465/controlpanel-top.htm(48): include() #1 {main} thrown in
/www/htdocs/w0074465/comm/comments.php
on line
30