The t-molding
After the paint has dried, i attach the black t-molding to the cabinet sides. I already made the slots for the t-molding before i painted the sides, using a 3/32" slot cutter bit. Before i apply the glue to the edge of the sides, i have to remove the superfluous paint with a sanding block.
Unfortunately i forgot to close the can of glue properly, so i have to use a good shot of thinner to make it useable.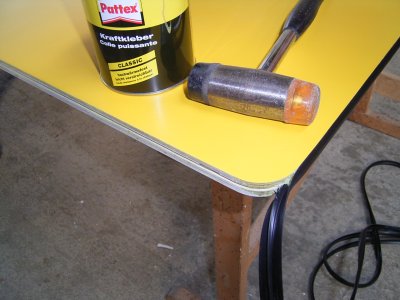 I apply the glue with a small paintbrush on the edge of the cabinet side and the t-molding. While doing so, i try not to stain the paint which would dissolve because of the thinner. After the coat of glue feels dry, i stick the t-molding into the slot and pound it in its place with a rubber mallet.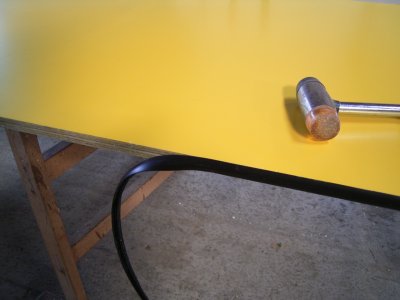 I did my cabinet in summer and the heat really helps working the t-molding around tight corners. In winter i would have to put it on the heater first.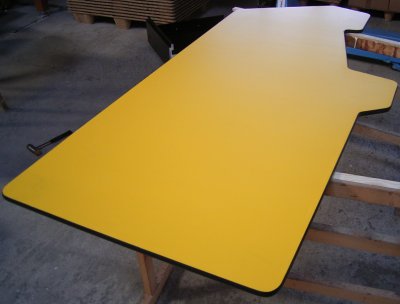 This is what the finished cabinet side looks with the t-molding applied. The beginning and end meet at the bottom of the cabinet, where the joint is out of sight. Because the t-molding is a little wider than the side is thick, i have to cut the edges with a sharp broach. That is a little tricky, because the coat of paint is not as robust as a layer of laminiate, but if the broach is really sharp and held flat on the cabinet, it's Possible to cut the edge without damaging anything.
Now, that the cabinet is finished, i take care of the monitor.
---
Fatal error
: Uncaught Error: Call to undefined function mysql_connect() in /www/htdocs/w0074465/comm/comments.php:30 Stack trace: #0 /www/htdocs/w0074465/t-molding.htm(51): include() #1 {main} thrown in
/www/htdocs/w0074465/comm/comments.php
on line
30