Cabinet top
To make the top of the arcade cabinet easier to install, i locate it with a biscuit joiner. I don't use any glue on the biscuits, so i can remove them while sanding an painting the cabinet sides.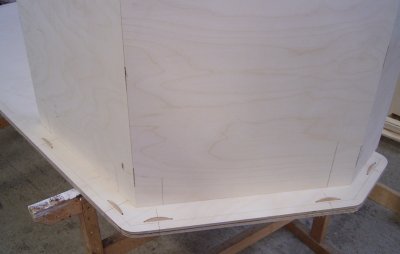 The speakers will be placed behind the backlit marquee. Therefor i route some slots in the lower part of the top. The two bigger speakers have a diameter of about 4", the smaller ones are about 1 3/4". For the small speakers, the effort of routing slots is too big, so i just drill two holes. As you can see on the black spots, the routing bit is not sharp anymore.
The picture shows the finished slots and holes for the speakers. On the back side there is another hole where the main switch will be placed.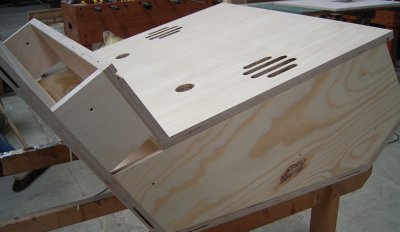 To do:
- Main switch (sits on the top)
- Ventilation slots

Next comes the backboard.
---
Fatal error
: Uncaught Error: Call to undefined function mysql_connect() in /www/htdocs/w0074465/comm/comments.php:30 Stack trace: #0 /www/htdocs/w0074465/top-2.htm(53): include() #1 {main} thrown in
/www/htdocs/w0074465/comm/comments.php
on line
30