Sound
Of cause i need sound for my arcade cabinet. I dismantled a pair of cheap pc-speakers for this purpose. The plastic case was partly screwed and partly glued together, so there was no way to put it back together.
This is the result after most of an hour sawing, cutting and ripping plastic pieces apart: 2 tweeters, 2 mid-range speakers, a curcuit board with controllers for volume and balance and a 12V power supply.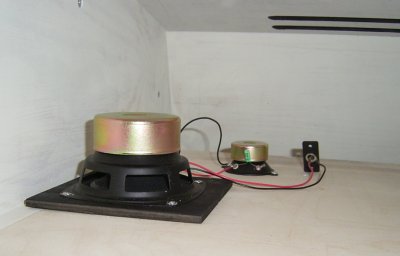 The membrane extents a few millimeters over the edge of the chassis, so i have to mount the speakers on a piece of plywood with a corresponding opening. Then, i screw all 4 speakers on top of the openings in the top part of the cabinet. The connection of the left speakers is no problem because they have a connectors. The right speakers where in one case with the controllers and the power supply and had a fixed wiring, so i had to cut all cables and make about 5 feet longer to allow the volume control to be placed below the control panel.
The circuit board with controls and the power supply. To adjust volume and balance, i have to remove the control panel. Unfortunately the games have different volume settings, so i have to adjust volume often. Maybe i later add a control in a place that easier to reach.
The arcade art
---
Fatal error
: Uncaught Error: Call to undefined function mysql_connect() in /www/htdocs/w0074465/comm/comments.php:30 Stack trace: #0 /www/htdocs/w0074465/assembling-7.htm(51): include() #1 {main} thrown in
/www/htdocs/w0074465/comm/comments.php
on line
30