The coindoor
To make my arcade cabinet look as original as possible, i need to add a coin door of cause. The I-Pac has a connector for coin1 and coin2, so i want to use the coin acceptors microswitch for adding (virtual) coins. I also connect the small lamp that illuminates the reject button.
The coin acceptors microswitch is connected to the coin1 connector on the keyboard interface. I'll add an additional button for adding coins because i don't want to use real coins while playing MAME games.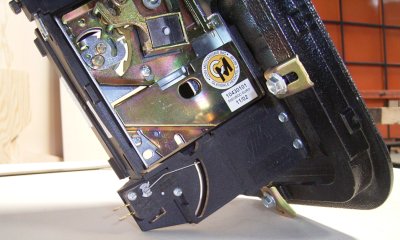 I originally planned to fix a microswitch to the reject button to use it to add coins. But the microswitch would be hard to mount and i need a second switch for player 2 anyway. Thats why i decided to use two small black pushbuttons.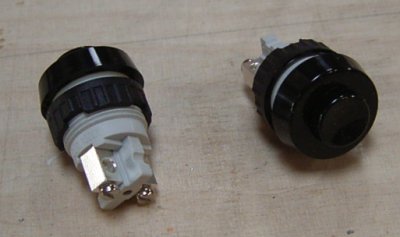 The buttons have a diameter of only 4/5", so they don't stand out that much on the black bachground.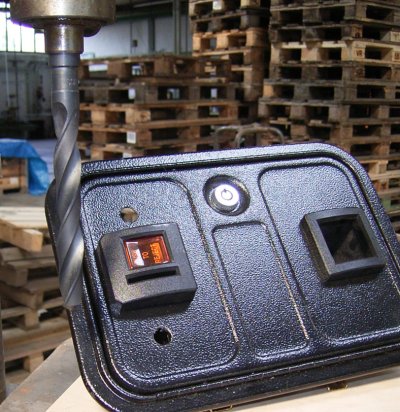 I had to drill two 16mm holes for the buttons into the metal of the coin door.
The coin door with all wiring done. One connector of the 3 switches is connected to ground (GND) on the keyboard interface, the other is connected to coin1, respectively coin2. The 12V light bulb is connected to an unused hard disk connector of the power supply.
The speakers
---
Fatal error
: Uncaught Error: Call to undefined function mysql_connect() in /www/htdocs/w0074465/comm/comments.php:30 Stack trace: #0 /www/htdocs/w0074465/assembling-6.htm(57): include() #1 {main} thrown in
/www/htdocs/w0074465/comm/comments.php
on line
30