Installation of the monitor
The glass plate fits into the slots of the top and the control panel support. The slots in the cabinet sides are 16 mm wide, so there is enough room for the 10 mm bezel.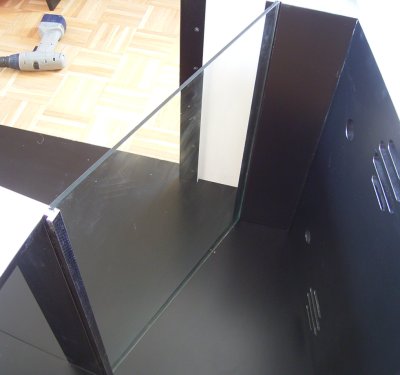 Next, the monitor is placed where it belongs. Some books (among other 'arcade fever' by John Sellers, recommended!) keep the monitor in the correct location.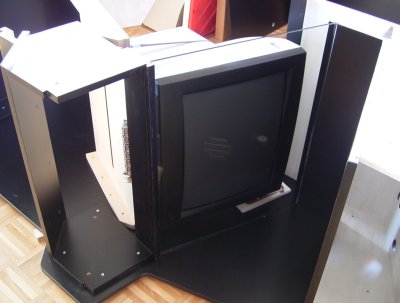 The aligned monitor is screwed to the cabinet side. Actually, i should put the bezel in place before i attach the second side, but it's not painted yet.
After the monitor is exactly aligned, i attach the second cabinet side with top, base, control panel support and monitor support. Now i can erect Q*bert for the first time.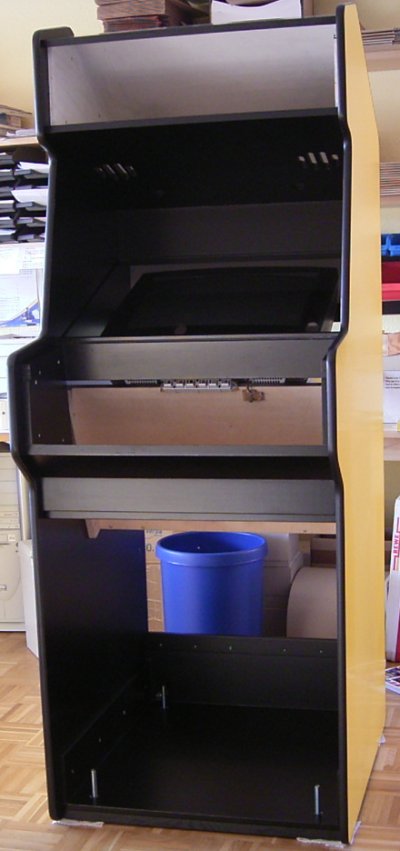 The cabinet, upright and in full size! To allow moving the cabinet around despite the heavy construction and rubber plated feet, i put some pieces of cloth under the adjustable feet. So i can easily push it around on the parquet.
Next, i install the door.
---
Fatal error
: Uncaught Error: Call to undefined function mysql_connect() in /www/htdocs/w0074465/comm/comments.php:30 Stack trace: #0 /www/htdocs/w0074465/assembling-2.htm(55): include() #1 {main} thrown in
/www/htdocs/w0074465/comm/comments.php
on line
30