Fitting of the door with coin-acceptor
The original Q*bert cabinet has no front door besides the coin door. I add a full-size lockable front door for easy access to the CD-drive and to have room for storing unused control panels. The picture shows the strips of wood used as door stoppers. They make the door more sound-proof.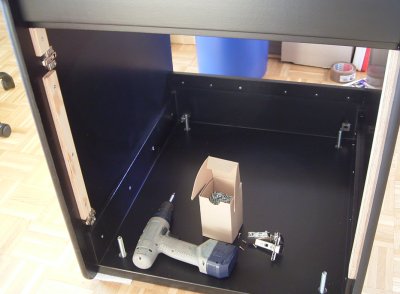 The door is mounted to the cabinet with concealed hinges. I made two holes for the hinges using a 35 mm forstner bit. The concealed hinges can be detached with a small button on the back, which makes mounting and unmounting easier.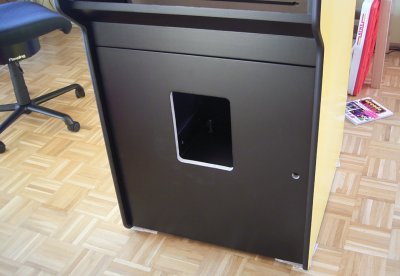 The door with the integrated coindoor and cylinder lock. The lock bolt catches behind the strip of wood.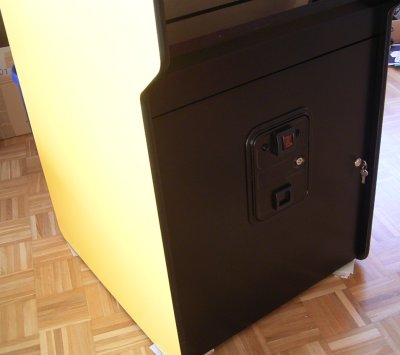 This picture show the two black pushbuttons i added as alternative to the coin slot. I had to get a new 16 mm bit to make the hole into the steel door. The black buttons don't stand out on the black coin door.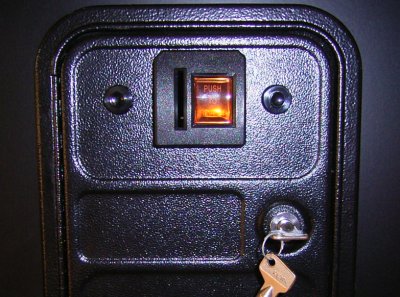 Actually i planned to use the reject button for adding coins (key 5 in MAME). But that would have meant to attach a microswitch to the button, and the second button (key 6) would still be missing. The two black buttons a directly connected to coin1 and coin2 on the I-pac.
Now comes the installation of the
hardware
.
---
Fatal error
: Uncaught Error: Call to undefined function mysql_connect() in /www/htdocs/w0074465/comm/comments.php:30 Stack trace: #0 /www/htdocs/w0074465/assembling-3.htm(53): include() #1 {main} thrown in
/www/htdocs/w0074465/comm/comments.php
on line
30