Keyboard and trackball
The first control panel i build is one with a keyboard and a trackball to replace the mouse. With this setup, i can administer the computer, play PC-games and surf the internet. Everaything is connected via USB, so i can change the control panels while the computer is running.
Back in the days, when everything was better, there were keyboards which had about 100 keys and a rectangular shape. Today, almost every keyboard has a funny (ergonomic?) shape and a minimum of 20 useless additional keys. That's why it wasn't easy to find the best keyboard for my Q*bert machine. The best one i found was a black Cherry RS 6000 with USB connection. It's nearly square in shape and has only two windows-keys and no other gadgets.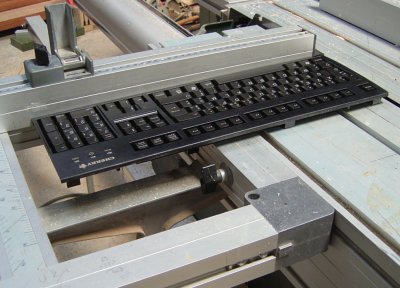 Even the most rectangular keyboard doesn't fit my needs out of the box, and besides it is bigger than it has to be. Thus, i open the plastic case and make the upper cover fit using my circular saw. I do the same with the bottom part, but leave a wider edge to fasten the keyboard.
After cutting the keyboard into shape, i recognized that the layout is french :-/
My first thought was that it was amazon's fault, but a look on the order acceptance confirmed that i had ordered a french keyboard. The funny thing is that the same keyboard with a german layout wasn't available at amazon.de, maybe i should have ordered it at amazon.fr. After i already had cut the keyboard smaller, sending it back obviously wasn't an option. The picture shows the old french and the new german keyboard.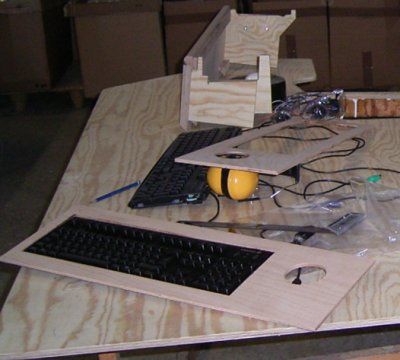 Here you can see how the keyboard is supposed to fit into the control panel. I had to cut the plywood for the panel three times until i got it right. The first time the opening for the trackball was too big, the second time it was in the wrong place.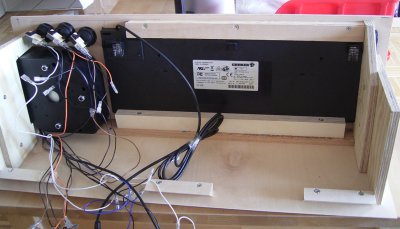 The keyboard is held in place by two strips of wood which are fixed with wood screws, so i can remove it for painting the control panel later.
Installation of the trackball.
---
Fatal error
: Uncaught Error: Call to undefined function mysql_connect() in /www/htdocs/w0074465/comm/comments.php:30 Stack trace: #0 /www/htdocs/w0074465/keyboard.htm(59): include() #1 {main} thrown in
/www/htdocs/w0074465/comm/comments.php
on line
30