Mounting the trackball
To replace the mouse in my keyboard-panel, i use a 3" trackball from x-arcade.com. The trackball ships complete with 5 black pushbuttons and a cable with PS2 and USB connectors.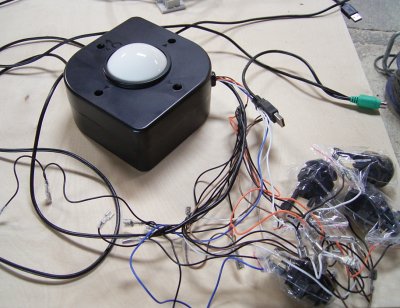 The big plastic body keeps me from placing the buttons near the trackball which makes using it as a mouse a little uncomfortable. I opened the trackball to see if the buttons could be integrated into the plastic case, but as you can see on the picture, there's no space left inside. I was amazed about the high quality of the bearing of the axles which carry the encoding disks.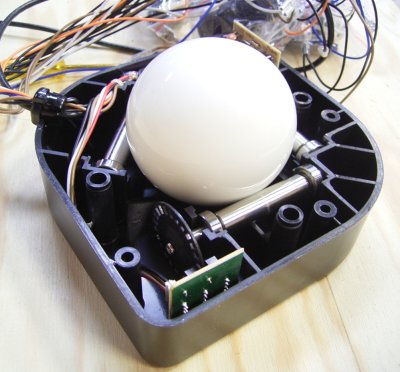 I made the hole for the trackball using a template and my router. I needed 3 attempts before i managed to cut a opening of the right size. But finally it fits exactly!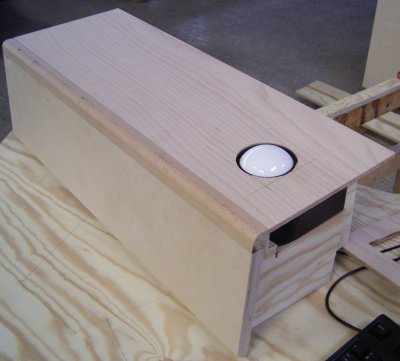 The trackball is supposed to be fixed with 4 provided mushroom head bolts. I could only use 3 of them because of the wooden side-pieces of the control panel. After cutting and routing the openings for the trackball, buttons and keyboard, i put everything together using lots of wood glue. Afterwards, i finish the surface with sandpaper.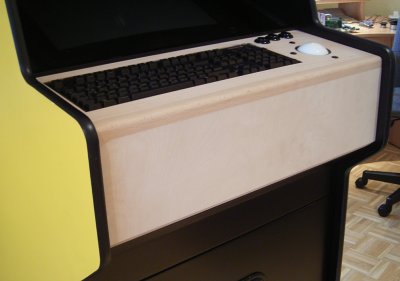 The keyboard is connected to the IPac with a USB-to-PS2 adapter, the trackball is connected to an USB-hub which i mounted under the control panel.
Now my arcade machine is finished, so i can install the software. Later i also build a control panel for 1 player and one for 2 players which will be connected using the keyboard interface.
---
Fatal error
: Uncaught Error: Call to undefined function mysql_connect() in /www/htdocs/w0074465/comm/comments.php:30 Stack trace: #0 /www/htdocs/w0074465/trackball.htm(55): include() #1 {main} thrown in
/www/htdocs/w0074465/comm/comments.php
on line
30