The Q*bert-panel
The one player control panel has besides the joystick and startbuttons three extra buttons. I would have used buttons with leafswitches, but couldn't find any so i use microswitches.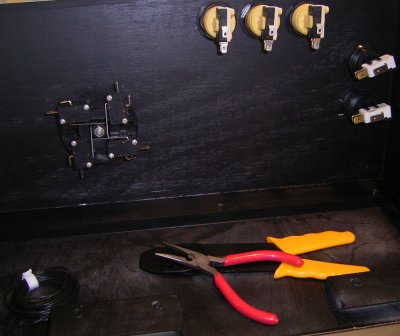 First, i connect all switches with the ground terminal. Therefor, i cut some pieces of wire to connect one microswitch with the next. After stripping the insulation off the end of the wires, i drill them together and add a cable shoe.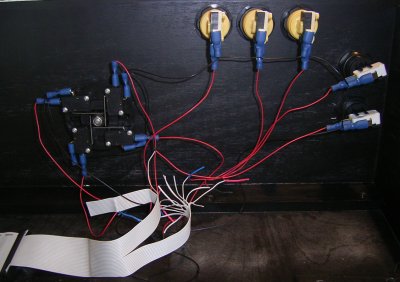 I connect all terminals marked with 'COM' in series (black cable). The ends of the cables are connected via the IDE-cable to the ground terminal on the I-pac. All connectors marked 'NO' are connected to the corresponding wires of the IDE-cable.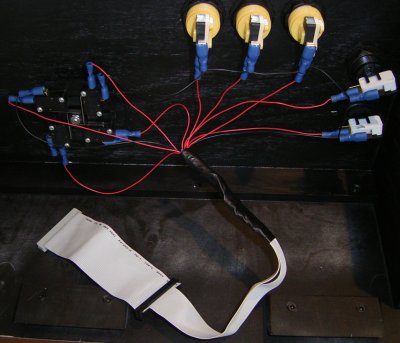 After soldering and isolating all wires with shrink-hose, i add additional isolation using insulating tape.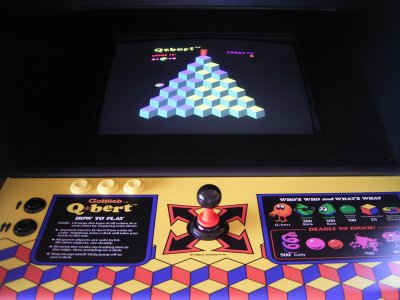 After rearranging a few wrong connected wires everything worked fine. But after a few games of Ghosts'n Goblins, the shiftbutton (Start 1) stopped working. After a lot of searching i found the bug: the standard MAME configuration of the I-pac was deleted. I never found out how that happend, but the solution is easy:
Start a text editor (Notepad or in my case nano or whatever you have). This isn't necessary, but you can see what you do.
Press the keys ctrl-alt-p in this order and hold them.
After the menu appears, press r for reset
Press e for exit.
---
Fatal error
: Uncaught Error: Call to undefined function mysql_connect() in /www/htdocs/w0074465/comm/comments.php:30 Stack trace: #0 /www/htdocs/w0074465/1player-wiring.htm(52): include() #1 {main} thrown in
/www/htdocs/w0074465/comm/comments.php
on line
30